Meet my newest little human. My TOTALLY adorable and precious little human. My "makes-my-heart-flutter-and-just-wanna-kiss-those-pouty-lips", little human.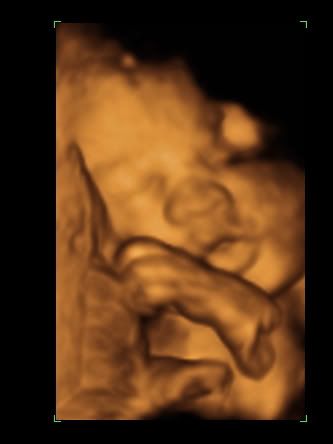 j
This, little wonder, is all ours. Not yet in our arms, but certainly in our hearts.
Not yet has this One taken a breath, but is One I would take my last breath for.
So here we are. Camped out nicely in week 30 of, this, our last pregnancy. I'm getting to the gushy, sad part of that fact. Like, this is the last time I will enjoy and also deal with all the joys and not such joys of pregnancy. So far, there really hasn't been much to complain about. Our ultrasound was yesterday and while we don't know the results yet we do know that we tend to produce some pretty dang adorable little humans. Our doctors appointment is later today so we will find out the full extent of what is going on with my
Marginal Placenta Previa
. What I was able to squeeze out of the technition was that my placenta is now 2.8 centimeters away from my cervix, where as last month it was 1.8 cm away. This means it is moving in the correct direction. However, at that slow rate, I'm not sure it will be far enough away to avoid a c-section. But, that is just speculation on my part. We will get the full scoop later today. I am betting that we will just continue to wait and see and do another ultrasound in a month. YAY for more pictures!!! Frown for more pelvic rest. Sorry honey.
In mama news, I am continuing to enjoy lots of energy and have decided to take on painting the entire basement this week. Of course, I maybe would not have dared such a feat if my most-best-friend slash double-cousin,
Cassie
wasn't coming later this week and has assured me that she will lead the forces into battle and get this sucker done with me. Between us, we will have 4 little ones under 4 running around while we accomplish this great task. I told Cassie that we really ought to notify TLC of this event as this will make for some pretty funny reality TV.
One mom, 4 toddlers and one
beached-whale
pregnant mom. Armed and loaded with fruit snacks, videos and paint-brushes dripping in a lovely shade of grey. It should be interesting.
As of now, I have already completed 2 halves of 2 walls. Although I'm not moving at warp-speed like Cassie does, I am moving. And that is an accomplishment. At 30 weeks.
In baby development news, the baby is now the size of a large head of cabbage. He or She weighs somewhere around 3 lbs and measures around 15.7. Although ours is probably closer to 15, as we tend to make them on the shorter side. Baby opens and closes it's eyes and responds to changed in light. Did you know babies are born with 20/400 vision?! Isn't that crazy! They literally can see only a few inches away! Maybe God does that for a reason though. You know. Like, not all of us finish labor looking like movie stars.