Politics really sorta make me chuckle. I quite enjoy reading all the hullabalo on Facebook. Sometimes I even chime in, although I really have no idea what I'm talking about. I have a vague interest in it, but you won't find me wearing a bandana chanting a mans name at any arena. There are only a few human names that I will probably ever chant: my redonkulously level-headed husband, my hilarious daddy, and judging by the first soccer game of the season yesterday...oh yes, i'm gonna be one of "those" moms.
And in the not so humanly realm, but most important...... you can at sporadic and often times in our house find me raising the roof, with some pretty awesome
Jesus Culture
worship music in the background. Me and the kids, rockin it out together. Because Jesus is our political superhero.
So, that being said, I want to share with you....via screen prints and links some pretty funny schtuff I have seen on Facebook.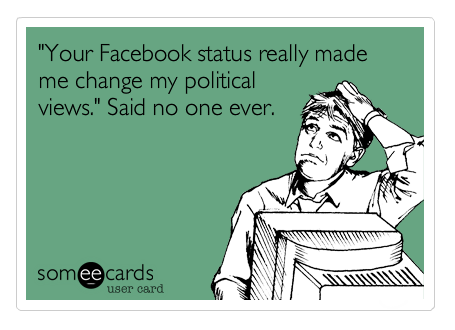 This drawing is from one of my favoreeeeet bloggers. She is a baller. She is hilarious. She is a mom who makes me laugh at my computer screen alot! Love this ladaaaaay.
Roo of Nice Girl Notes
.
Check out her recent Ballers of History post, related to this drawing. Click.
HERE.
And after sifting through a few days of swooning over Obama remarks on Facebook, I found this little Facebook convo that I thought was quite interesting and even more funny.
(i blurbed out their names via photoshop because I don't know these people that well, and I'm not sure they would want to be associated with my "crazy whack mom blog".....notice though...I did manage to circle my own face because i think it's funny how facebook adds your face for you, just in case you want to comment....by the way, did i just say, "blurb"?)
And this was my recent post. Although I don't do politics too often, I couldn't hold my tongue on this one after seeing some of the remarks and some of the footage from the DNC. And the verse of the day just struck me in this way.
Now I'm moving on to a little inspiration. I loved these recent quotes from a crazy and awesome life coach on FB!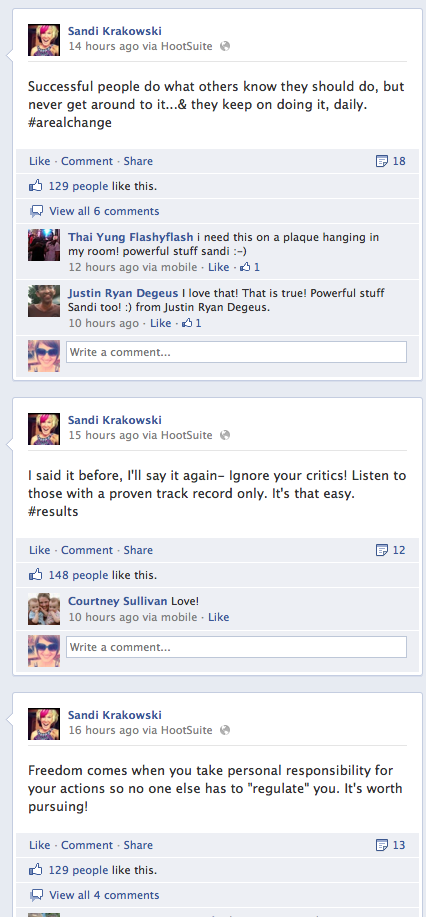 So true Sandi! You shout it!
And almost last but not least are some recent writings from my new favorite author, Ann Vonskamp of the
One Thousand Gifts
and her relaxing and always heart-opening blog,
A Holy Experience.
If you have children and wonder what it will be like to send them off into the world, or you have recently done this....this POST is for you. And it was for me.
Grace — it is strong enough to carry even the things never done, the things heaviest of all.
Or there's the more recent post, of hers.
On Foucs during the Age of Distraction.
The thing is, it's what Phelps said: Stay in the pool.
Michael Phelps said that the way he trained to be one of the greatest athletes of all time — was to stay in the pool longer than anyone else.
To stay at it when everyone else got out. To stay focused when you'd love to be distracted. To do the next thing when it's not the easiest thing. To not flip over to Facebook or turn on the TV or check Twitter or pop into email.
The most successful are the ones most focused and the greats are greatly focused. There is never any fruit without focus.
As a new friend of mine always says, "it's the small things, done daily, that will alter the trajectory of your life".
Be love. Be consistent.
Now this video folks, this is my kind of worship!
Crank this thing and try not to get happy.
love y'all!