My Three | Week 45
I'm not even sure if my kids will divorce me when they are older for posting this picture? It's a little embarrassing of me and I don't even know what's going on with my shrit/chest/skin/clevage area. Just go ahead and pretend like you didn't even see that. On the otherhand, if we can overlook that for a moment, I think I love this picture. All three of my boys snuggling with me in the wee hours of the morning while my hubby gets ready to sneak out of the house for his weekly Mens group breakfast.
Even though you could have like thrown something over me, I really love that you snapped this photo of us. I especially love how Leighton his holding Beckett's hand.
My Three | Week 46
Our regular Jillian workout. Normally Chase has his mat out too. By the time they pull out all of their mats and soup cans for weights and such, I have no room to workout. I wouldn't have it any other way.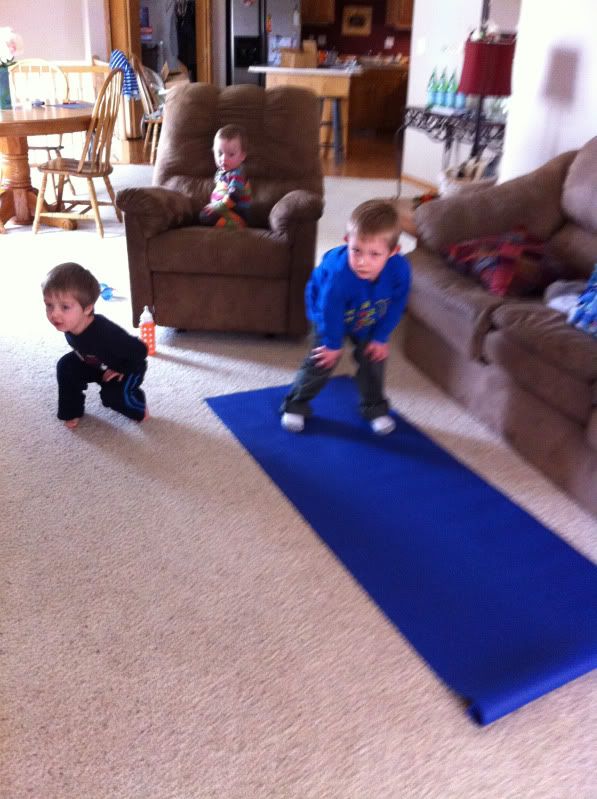 My Three |Week 47
I grabbed this while out at our one of many park outings this spring. It is just amazing that we are able to actually have a normal spring and be outdoors like most people in our country do. This is totally not normal for our neck of the woods but we will sure take it. I love these boys. I can't believe I'm in the last four weeks of this photo challenge. It's amazing how they have all changed. It's amazing how we have all changed. More love. More happy. More blessed.