To my husband on Father's Day:
Honey, I just don't know how I could write the words to do justice to your role as a father. You are present, you are committed, you are someone they will always trust. You have a calm presence and a devoted heart. They know that you would do anything for them. You pray for them. You love Jesus and they will see that wonderful example of God's love in you.
The boys know that they are your pride and joy and your love for them is mine.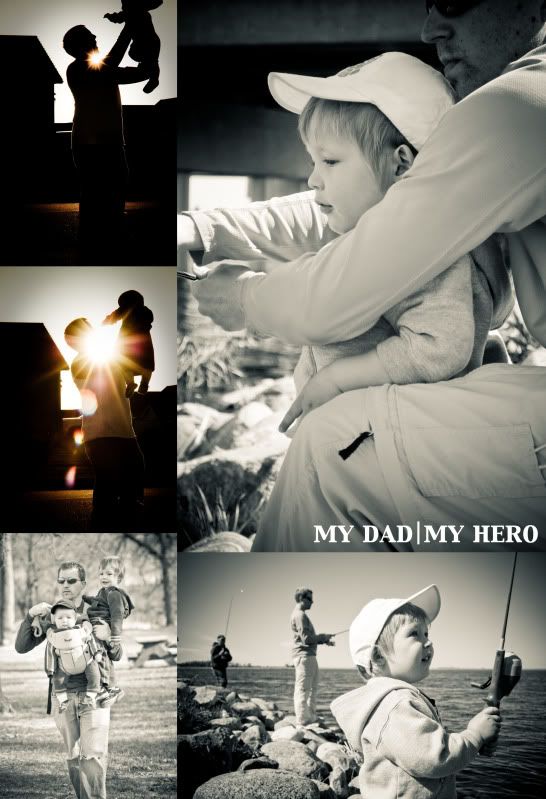 To my Father-in-Law on Father's Day
:
Darrel, it is no mystery how Derrick turned out to be such an amazing Father. He learned it from you.You are a kind soul with a giving heart and you have given every ounce of what you have to your boys and now to your grandkids. They learned that from you. Be proud of that today.
To my dad on Father's Day.
Today, Dad, I want to say thanks for all the wonderful ways you have been a Father to me.
From the days when I was little and had you completely wrapped around my pinkie and our favorite song was Daddy's Girl by Red Sovine.
To the days when I had to make new friends in a new town and I had a sleep-over with some new neat girls. And instead of being a boring old dad, you let us put hair clips in your hair and danced around the kitchen with us. From then on, my girlfriends loved you and they still do!
Or even the days when we were getting ready to leave for a trip on a Sat morning and you would burst in my room, clapping loudly singing the most annoying, "get up, get up in the morning....get up, get up in the morning....get up, get up in the morninggggggggggg....it's time to get on up!" I may have thrown my pillow at you back then, but today I cherish those memories.
Now as an adult, I love coming home to your wonderful little piece of the outdoors at WhiteTail Acres and hearing about your latest and greatest adventures. From starting a little cow hobby farm to scarring the begezzers out of mom by shooting a deer from inside the house through the patio door! There's never a lack of laughter when we come home. And I love that!
Dad, you are so many things. You are friend, a husband, a fisherman, a Twins fan, and a Hunter. But to me you are the greatest Dad in the world! I love you so much! Here's our song!
And here's your first fishing trip with my first son.