My most-BFF/double-cousin/basically sister, Cassie, has requested a 38 week photo. I'm a little nervous to share how huge I am.
My niece, Lydia, on the other hand is not nervous about sharing this and provided all of us with a 38 week image of me during the Easter Service yesterday.
So.....without further ado, here is what I apparently look like at 38 weeks!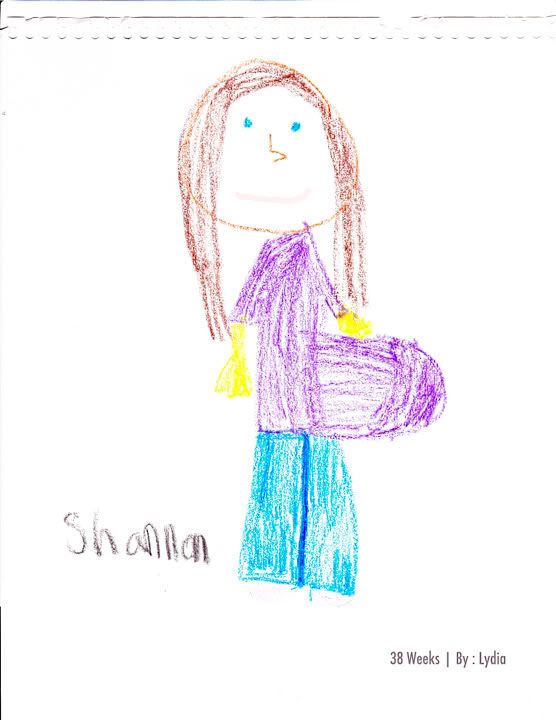 I have to say, I completely love this picture and it's quite accurate! My little Lydia is such a talented little artist already at 7 years old and I will cherish this drawing forEVER!
What I will not cherish forever, however, is what I would like to term, "hitting the proverbial pregnancy wall". Like, I hit it! No....
I smashed into it really hard this weekend. Is anyone following me here? Have any of you ever hit this prego-ville wall before?
Like, what I mean is: "ATTENTION, LADIES AND GENTLEMEN.....DOCTORS AND NURSES...ahem, let me clear my throat a bit here....GET THIS STINKIN AWESOME, WHO I KNOW IS GONNA BE CUTE-AS-A-BUTTON
BABY OUT OF ME.......NOW!!!!!!!!!!!!!!! I would now prefer to just hold the babes, instead of like housing the little snickerdoodle. SERIOUSLY. I'm like done. Stick a fork in me....or wait, perhaps stick a little hook in me and pierce my bag of water please. Cuz, I AM DONE.
Oh wait, you know my super awesome husband? That hottie of mine? Well, he's just lucky he's so dang good-lookin because he requested that I just wait until the weekend so he can finish up some stuff at his work.
Oh yes....sure honey, you just go sit in your comfy little padded rolly chair all day and work away while I'm here at home.....trying to keep your two older children alive as I can barely walk much less put the dishes away without ramming my ginormous belly into the counter. You don't worry about a thing though...just get that work done! Do you need me to rub your shoulders while you are at it!
Just kidding, babe, I totally want you to get your work done. But really, I'm done! On the other hand, I still have a few things to finish up here this week so I'm cool with waiting too. Well, no, I'm not, let's get this show on the road already! Well, wait, we still need to find some names....uhhhhhhh.