7 months old today. Wow. And in honor of his seventh month celebration he decided to definatively achieve two big accomplishments today. On this day. The day of his seventh month. First, he cut his first tooth. To-Day people! We both saw it. Ask Derrick. I kid you not. And later, he gave us his first big crawl! Our great friends Rob & Laurawere even here to witness that one. Of course I got video but you may need to wait for that. It wasn't as awesome once I got the camera out but it was a crawl. It's hard to make good video with a mini super ninja jumping on your back while you are crouched down trying to document the big moment.
The mini super ninja? Yeah, that would be Leighton. Perhaps it's time I get to a post just about him. This month, his would be somewhere around the 30ish month ish area. I think it's about time he gets his own milestone monthly update. I'll get on that. I promise.

So, back to Chase. Wow, can they get any cuter than this? I mean really? Adorable puppy prop and all. Perfect. Just perfect.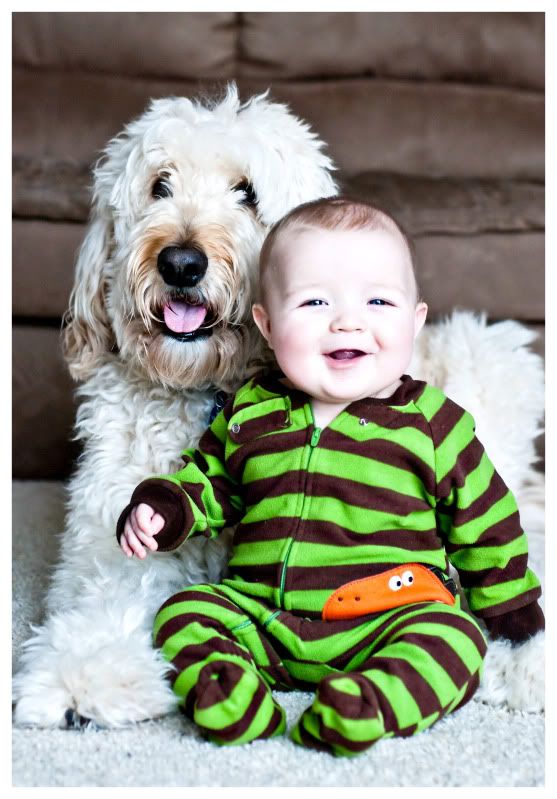 Just perfect. I have re-fallen in love with this portion of the baby stage. The pillsbury dough boy roles, the squeals, the frantically waving arms, the curling up into mommy, sneezing a mouth-full of sweet pea baby food directly into my face...all these things I love so much. Peas in the face and all. I love it! Not that I didn't love the other stages. I just forgot HOW MUCH I loved this stage. And the older he gets, the easier he gets to photograph. You just can't go wrong with the gummy squealing smiles and endless pudgy rolls. Not a chance.
So, here he was yesterday, gearing up to crawl. What nice formation he has.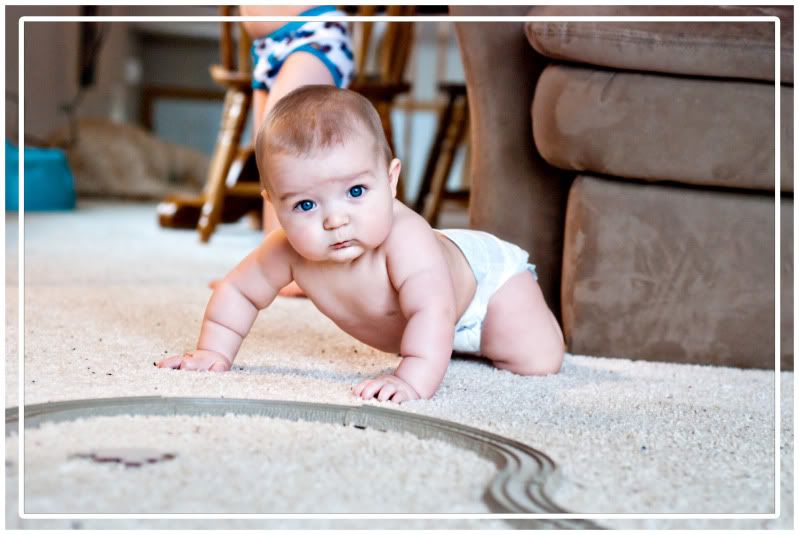 And this is how he was doing a day later. I grabbed this video today (Sunday). The original video was great too but this one really displays his distance and speed. He'll be proud to see this when he is older. So I'm posting it.
'

In addition to the tooth cutting and crawling, Chase has been doing many other fun things. He and Leighton are starting to do some friendly wrestling. Chase really enjoys trying to bite Leighton which is pretty adorable. Leighton continues to be an awesome big brother-only running by him and pushing him over once in a while. Just when he gets one of those little naughty super-ninja streaks in him. Chase really tolerates it will. Chase is eating all kinds of fruits and veggies. Not yet lovingly prepared home-made as I mentioned in an earlier post. Still, the Gerber package gets lovingly opened. That counts for something. Leighton even likes to get in on the action and takes over feeding him. He does pretty good for the most part. Until he jabs the spoon a little too far into his mouth. Chase usually gags. Gives Leighton a dirty look and gives me those
"recue me mommy eyes". And I swoop on in. Like a momma bear breaking up her little cub fight. Except momma bears don't swoop.

Ok, and our favorite favorite favorite Chase moment right now are the squirrel noises he makes. Yes, you read that correctly. Chase makes bonafide real-deal squirrel noises. When he gets excited about something such as his baby food inching close to his mouth, his bottle or a toy he really wants, he starts in on this little squirrel laugh noise. I don't think I have a video yet but that's on my list of things to do here soon. It's just adorable.
Well, that about covers it I think. Squirrel nosies and all.